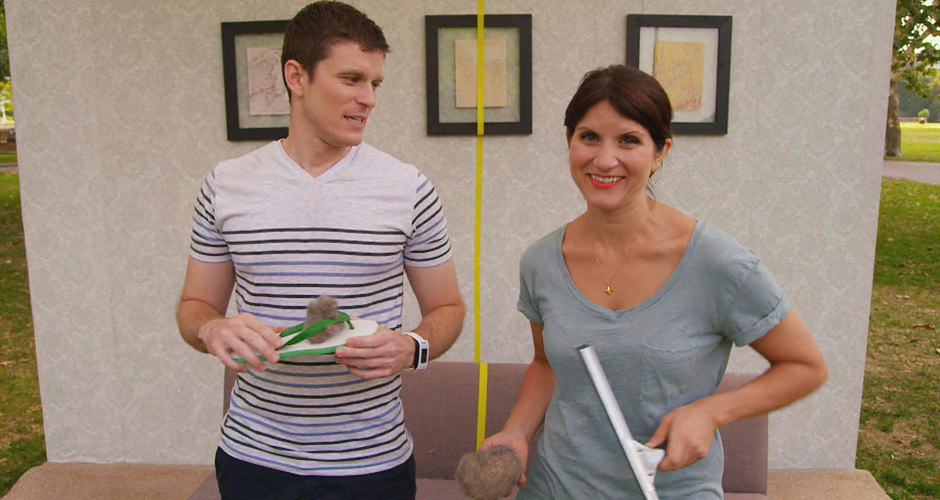 The World of Hacks
Brooke Van Poppelen / Wednesday, January 7, 2015 7:09 am
Guys! It is so exciting to be writing the first-ever blog post about Hack My Life on truTV, which you all watched and loved. You LOVED it, right?? Yay! Round of applause for me and Kevin Pereira!
Full disclosure: the network sent me a bottle of wine as a premiere gift and I may have had a glass/most of it already as I write this!
Have no fear, though -- prior to hosting Hack My Life, I actually blogged for truTV and Dumb as a Blog back in 2010, so I sort of know what I'm doing. Great people over there I must say! (Wink wink, hint hint, give us a second season.)
There is SO much to discover in the world of hacks. I am by no means an expert so it was a whirlwind education that Kevin and I had to experience! Of course, I had a few favorites that I had heard of and tried before the show -- like the no-corkscrew wine hacks, because, you know, I like my wine and so help me God, I will drink it.
But aside from that one, you quickly learn there are dedicated, truly inventive folks out there on the web who LOVE to come up with all these life hack shortcuts on a daily basis. And that's where Kev and I come in. We represent you guys -- the average person interested in trying life hacks who may or may not have gone to college but dammit, you're street smart and want to save a buck and some time. So we try out all this internet stuff for you and can say that some of it's awesome and some it's… not. We are the middle man and woman dedicated to uncovering the truth about hacks!
The series premiere was jam-packed with info and yes, Kevin and I almost died from a nacho cheese bonfire. Kevin insists that I "left him there to burn to death" but I am the daughter of a nurse and a cop, so clearly I was just playing it safe and saved my own butt so I could then go help out other burn victims once the smoke cleared.
Alright, let's talk about some of this episode's hacks:
1. Ashes & Mayonnaise to Remove Water Stains
I currently need to give this a try because my D-O-G took a P-E-E on my wood floors and left a S-T-A-I-N and if I don't get rid of it the landlord will not give us back our D-E-P-O-S-I-T.
2. Pool Noodle Glued on My Garage Wall
I live in New York City and have a car -- which is rare. I also have a garage -- which is unheard of. Said garage is smaller than a morgue slab so every time I squeeze out of my car, the door hits the rough brick wall and this madness must stop so let's call in the pool noodle!! Bonus: they are probably on clearance in January.
3. Pool Noodles in My Lady Boots
Since I will probably have leftover pool noodles, I will try this hack for my sassy lady shoes. I currently use empty wine bottles to keep them standing but when you are wearing the boots, empty wine bottles are left to roll around in your closet and then your boyfriend thinks you have a problem you're trying to hide.
4. Toothpaste For Bee Stings
I am allergic to bees, so I would just be dead. No need to put toothpaste on me. Stab me with an EpiPen, get an ambulance and call it a day. Or better yet, do not invite me to the woods.
5. Wiping Your Bare Bottom With Dead Leaves
Sorry. Not doing it. See above statement about not being so good in the woods.
Which ones did you guys love and want to try? Any that you've tried and have led to disappointing results? We want to hear from you on Facebook and Tumblr!
Follow me, Brooke Van Poppelen, on Twitter, plz! And while you're at it, also follow the wonderful Kevin Pereira!