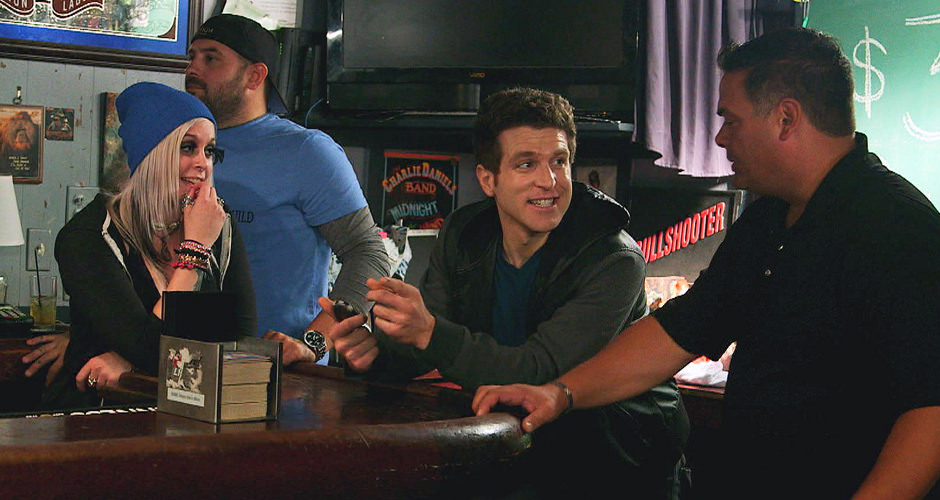 Player's Pub & Grill vs. Art's Tavern
Mo Mandel / Friday, January 9, 2015, 12:51pm
This episode was absolutely crazy. At one point in Art's Tavern, I literally had to take a producer aside and say, "I don't wanna keep shooting until that guy stops bleeding." Really. I said that. This is my job. They wanted me to go interview this guy who had just gotten a tattoo and I was like, "Ah, truTV doesn't pay me enough to contract Ebola or whatever is leaking out of that guy's bloody arm." And this was within the first ten minutes of me walking into that bar. And this is how Dave L. likes it. Wild, crazy, non-stop debauchery all in the name of a solid Chicago drinking institution. Art's Tavern is like a big frat house for all the people who would never even consider joining a frat. Nor would they be allowed to join a frat, so I guess it all kind of works out in a drunken, insane, skateboarding-off-the-top-of-the-bar kind of way.
Now, the Player's Pub was different. Very different. For starters, I didn't feel like I might get stabbed by a needle or anything. It's such a great sports bar because it goes above and beyond just TVs. It's got a personal touch. Dave and John literally built a lot of the interior of that bar by hand. The outdoor patio kind of looked like a baseball field. They had a ton of different areas where you could hang out and have conversation, a fire pit area, a gambling area and of course, a nice long bar that was run by attractive friendly girls. I kind of feel like the Player's Pub is where you go to meet your wife and Art's Tavern is where you go after she leaves you and you spiral into long nights of partying until you wake up years later in a ditch and then wander back to the Player's Pub to have some food and contemplate your existence.
And before I comment on why Dave D. kicked Dave L.'s butt in the competition, I have to clarify that I love both of these guys. In fact, I'm writing this while performing stand-up comedy in Chicago and afterwards the three of us are all going out for steaks and booze. But with that said, what I did think was interesting about this episode was that even though Dave L. was the more alternative outsider type of person, Dave D. was the one with the open mind. And that's why he won. Dave L. couldn't get past his preconceived ideas about what sports bars were like and thus basically wrote off all the strengths of the Player's Pub, while Dave D., despite having never been in a place like Art's Tavern before, immediately was open to its unique qualities.
But like I said, I love both of these guys and even more so I love both of their bars. I'm gonna go to both of them while I'm in Chicago and you should too if you ever visit the city. Which, based on the fact that it is currently zero degrees outside, you should probably wait a few months to do.
Now to drink and stay warm…
Follow Barmageddon host Mo Mandel on Twitter for more of his unique perspective, stand-up dates and more.